The Deborah Business Education Hub
DWIB Collective
The purpose of the Deborah Women in Business Collective (DWIB Collective)  is to strengthen, nurture, encourage and grow Christian women in self-sustaining business projects and opportunities. Deborah Women in Business Collective Chapters are run in various developing countries. The heart behind each DWIB Collective Chapter is to champion women to build a microbusiness that will generate income to support the needs of their family and also sow into the needs of their community. 
There are many wonderful benefits to microbusiness which include:
> Microbusiness can provide products and services tailored to locals.
> Microbusiness can occupy otherwise vacant storefronts/land and provide places for neighbors to meet.
> Microbusiness can stimulate an inflow of community resources.
> Microbusiness can provide role models and support for future entrepreneurs.
The inaugural Chapter of the DWIB Collective is with the beautiful women of the Katunda Pentecostal Assembly of God, located in Katunda Village, Jinja, Uganda. We are excited to see what God will do in and through His Mighty Deborahs of the Katunda PAOG.
Deborah of the Bible (Judges 4 and 5) was one who received fresh mandates from heaven, and though she knew how evil the oppression of King Jabin was, she also knew that with God anything is possible!. Something in Deborah knew how to pull on the resources of heaven, stand in the counsels of the Lord (Jeremiah 23) and open her mouth and let Him fill it (Psalm 81:10). 
The DWIB Collective Chapters are made up of Mighty Deborahs who have a desire to live a business life of passionate pursuit and purpose wrapped in His presence. 
CHRIST-CENTRED BUSINESS EDUCATION

Katunda PAOG Chapter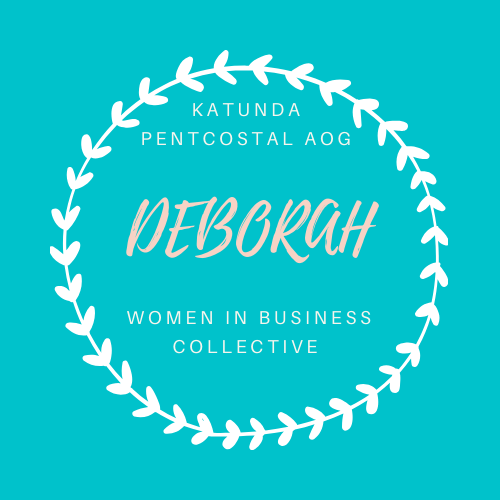 The Katunda PAOG DWIB Collective Chapter serves and impacts the Katunda Village community (and surrounding communities) through self-sustaining business projects, including projects which provide financial support and practical care for the widows and orphans. 
A portion of the income generated from the Chapter aids the ongoing work of the Barnabas Legacy Children's Dream Foundation. The BLCD Foundation is a legally registered Ugandan Not for Profit Organisation. BLCDF is a Christian Child Care Ministry that looks after 250+ vulnerable, orphaned and needy children in Katunda Village, Jinja, Kampala. The Foundation was founded in 2013 by Pastor Steven Wamala and a team from Katunda Pentocostal AOG, Buikwe District, located in Katunda Village. 
In 2020, the Katanda PAOG and the Barnabas Legacy Children's Dream Foundation invited the Women ECHO Him Collective to run a Deborah Conference for it's women and a program for its children. Due to COVID19 restrictions, the Conference and Children's Program could not be held in person and instead were held virtually. 
Throughout August 2020 the women (in a number of small groups, due to COVID19 restrictions) attended the Deborah Microbusiness Foundations Conference where they learned about 5+U Pillars of Business Built on a Firm Foundation of Christ; business principles that are important in starting and growing faith filled microbusinesses. The women also explored the life of Deborah through Bible devotion time. 
CLICK HERE to take a look at the photos to see the precious time the women had together!. 
Psalm 126:3 The Lord has done great things for us. We are glad!
The first project of the Katunda PAOG Chapter will be planting and harvesting of CROPS, such as maize and beans. A milestone moment took place on Friday 3 July when the Tenancy Agreement for the hiring of two acres of land for 9 seasons (4.5 years) was signed off to start this project. 
Wow what rejoicing! Indeed we are glad! Time now to start clearing the land and putting the boundaries lines in, with planting going ahead from September onwards.
Isaiah 46:4 Even to your old age and grey hairs I am He I am He who will sustain you.I have made you and I will carry you; I will sustain you and I will rescue you.
Another project of this Chapter, called the 'ISAIAH 46:4 Project,' has also begun. The purpose of the project is for the older women, to have a means to be able to sustain themselves; to grow some food for their needs and have some left over that they can sell to get some cash for their other needs, such as blankets and food items for the colder months.
The ISAIAH 46:4 women are creating some micro gardens, using wooden pallets, tins and containers. They will be growing some herbs and vegetables, and are also going to explore some garden art as well (such as painted rocks/stones). They are using an area of land around the Church building. Some of the older children under the care of the BLCDF are going to be helping these older mamas.  
There are a number of other projects on the horizon such as Jewellery and Crafts and Body Products (such as soaps and shower steamers), through to tailored and sewed items (like aprons and pillowcases). 
If you would like to contribute your time (virtually and/or in person), your expertise and/or your financial support (for example, seed money for the starting raw materials), we would love to hear from you! Please email deborahbizedhub@gmail.com. 
Take a look at the Chapter's Pinterest Board for ideas that are thought of and planning is underway. https://www.pinterest.com.au/ideas2propelu/kampala-paog-deborah-wib-collective/ 

Products to purchase from the Katunda PAOG DWIBC Chapter will be coming in mid 2021!
The Chapter would value your ongoing support in prayer, business project ideas, financial input and championing them in growing as business women.
Follow the updates at: https://www.facebook.com/katundadeborahwibcollective
Email: katundapaogdeborahs@gmail.com 
Mobile: +61 4 8807 7034 (Australia) |  Maree Cutler-Naroba | Founder DWIBC 
Mobile: +256 777 623896 (Jinja, Uganda) | Pastor Steven Wamala | DWIBC Katunda PAOG Chapter Co-ordinator 
New Chapters Coming Soon!
Get in Touch
Maree Cutler-Naroba 
Founder Deborah Business Education Hub 
Business Strategist and Coach, Writer, Child Protection Advocate
Founder The Deborah Conference and Women Echo Him Collective
Address
PO Box 144, Kununurra, Western Australia 6743